SFX Magazine are conducting interviews with Torchwood! Monday's interview was with Kai Owen (Gwen's boyfriend, Rhys); yesterday it was with Gareth David-Lloyd (Ianto Jones); today they are talking to Chris Chibnall (head writer for Torchwood); Thursday it will be with producer Richard Stokes and on Friday it will be with Torchwood's leading lady, Eve Myles (Gwen Cooper). Please note that the interviews do contain minor **SPOILERS**.

Click here for Kai Owen's interview!
Click here for Gareth David-Lloyd's interview!
Click here for Chris Chibnall's interview!

UPDATE: Click here for Richard Stokes' interview!
UPDATE #2: Click here for Eve Myles' interview!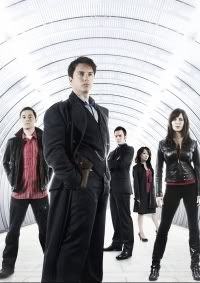 In the Chris Chibnall interview, there's a new picture of the Torchwood team! Stay tuned for all the interviews!