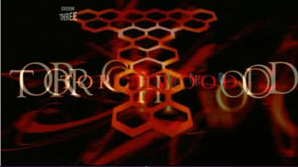 The episode titles for Torchwood, Season 2 have now surfaced online. Be aware that the following paragraph contains **SPOILERS**, and if you don't want to be spoiled, look away now. Please note that the following are not 100% accurate.


2.1 Separation Anxiety
2.2 Sleeper

2.3 To the Last Man
2.4 Another Working Day
2.5 Adam
2.6 Reset (Part 1)
2.7 Death comes to Torchwood (Part 2)

2.8 Day in the Death Of... (Part 3)
2.9 Wedding
2.10 From out of the Rain

2.11 Adrift
2.12 Prequel
2.13 Spaceship Under Bay
Thanks heaps to
The Torchwood Institute!